The First International "Yunfeng Meeting" of Polyurethane Industry Attracted Thousands of Viewers in The Industry
The "2020 Polyurethane Cutting-edge Technology International Forum" was successfully held in Shanghai on June 12, 2020 which was jointly sponsored by Shanghai Polyurethane Industry Association, University of Shanghai for Science and Technology and Tiantian Chemical Network. The theme of this forum is "Green, Science and technology, Environmental protection and Intelligence". The entire forum was live-streamed online with more than 12,000 viewers in more than 30 countries and regions. Professor Yang Junhe, School of Materials Science and Engineering, Professor Wei Jianhua, Vice President of Shanghai Huayi Group, and Dr. Bert J Ten Brink, Chairman of EUROPUR are co-chairmen of the conference. It was reported by China Daily, Ifeng.com, Sina.com, China Business News, China Chemical Industry News, Jiemian.com and other medias.
Build the First "Cloud International Academic Conference" in Polyurethane Industry
The forum last for 10 days. 28 world-renowned scholars and experts in the field of polyurethane and related new materials brought more than 20 cutting-edge reports and 4 theme salons through cloud broadcast. They communicated and exchanged information on cutting-edge polyurethane technology, sustainable innovation and development, industrial policy, environmental protection, recyclability and other topics. At the same time, the topic on how to make sustainable innovation for new chemical materials enterprises under the current epidemic situation was discussed in depth to learn from each other and jointly promote the sustainable development of polyurethane industry. It is also the first time for the polyurethane industry to hold the entire online and offline industry international academic summit.
For the first time, this forum adopts a new model of "cloud". Compared with the past, this conference has four characteristics: highlighting the profound connotation of the new era, highlighting the new concept of life, highlighting the great opportunities of new industries, and highlighting the internationalization. This forum break the time and space limit, improved the efficiency of communication, achieved cloud and on-site barrier-free communication through cloud questioning, cloud interaction and cloud question-answering, and helped enterprises carry out industry publicity during the economic recovery period of the epidemic, and promoted the realization of intelligent, high-end and international. Research and development scientists from Dow Chemical, Huntsman, Basf, Huayi Group, Wanhua International Famous Companies such as Chemistry, and Shanghai Aircraft, and experts and scholars in colleges and universities from Chinese Academy of Sciences, Zhejiang university, Shanghai Jiaotong university, Shanghai Polytechnic University and other research institutes discussed about the new polyurethane materials in smart home, new energy vehicles, cold chain logistics, 5 g, LNG ship, high-speed railway, aerospace, biomedical, foaming agent and other new applications fields. Professor Li Jing of school of Materials of USST delivered the cloud conference report on "Application of Graphene in polyurethane Industry". There are more than 12,000 online audiences worldwide, more than 150,000 visitors, more than 6,000 online comments, and more than 260 online and offline interactions.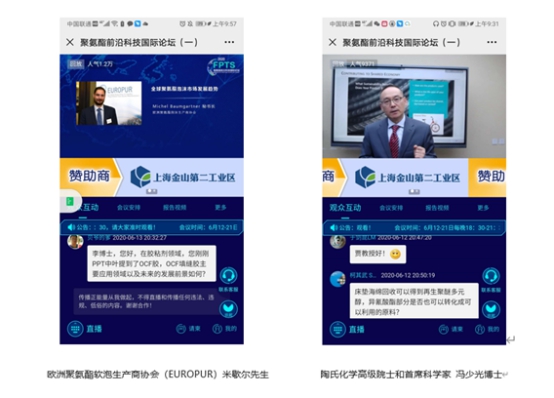 Held A Special Meeting at a Special Time
June 16this the offline special session of the forum Summit. More than 80 entrepreneurs, experts and scholars from Shanghai Economic and Information Technology Commission, industry associations, institutes, large enterprises, universities and other institutions participated in this offline summit forum to jointly explore the sustainable development path of polyurethane industry. By all accounts, "Green, Science and technology, Environmental protection and Intelligence" is a solid foundation for the long-term development of polyurethane industry, although the arrival of the outbreak of a disrupted many steps of enterprise development, but in the party central committee with comrade xi as the core, under the correct leadership of the Chinese entrepreneurs come together to overcome the difficulties, looking in the crisis, effectively guarantee the effective resume work and production enterprises, but also provides a demonstration to return to work for the polyurethane industry and production. Yang Jun and Professor of School of Materials of our school were invited to host the forum on-site salon. The heavyweight celebrities exchanged with each other, Shared their experiences, and conducted in-depth discussions on the theme of "Post-epidemic Economic Trend and Sustainable Innovation path of chemical enterprises", which demonstrated the social responsibility and responsibility of enterprises.